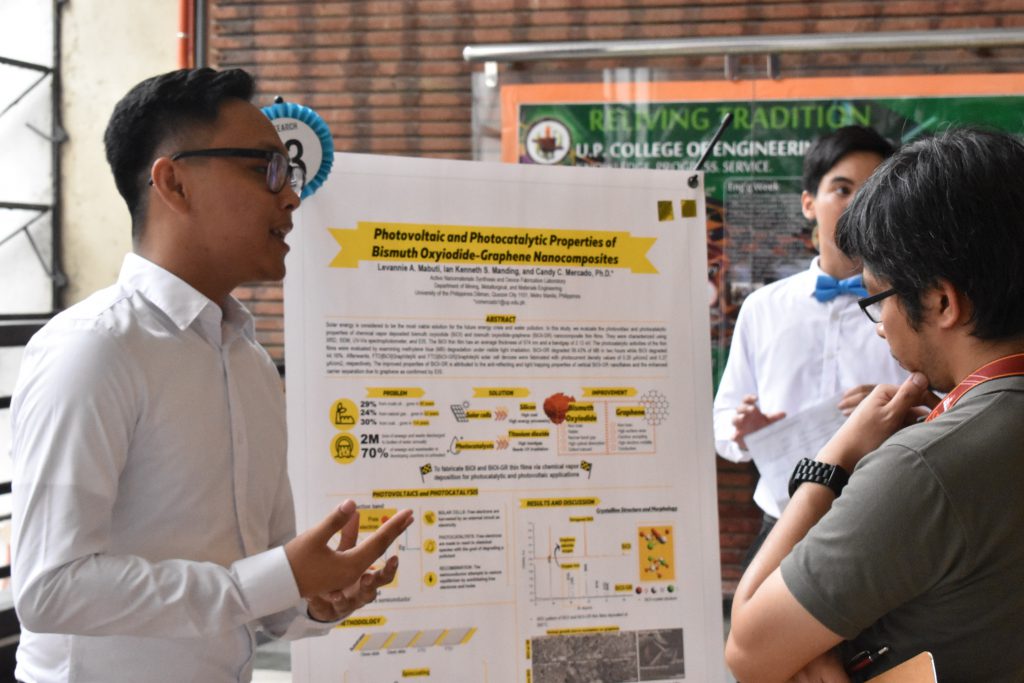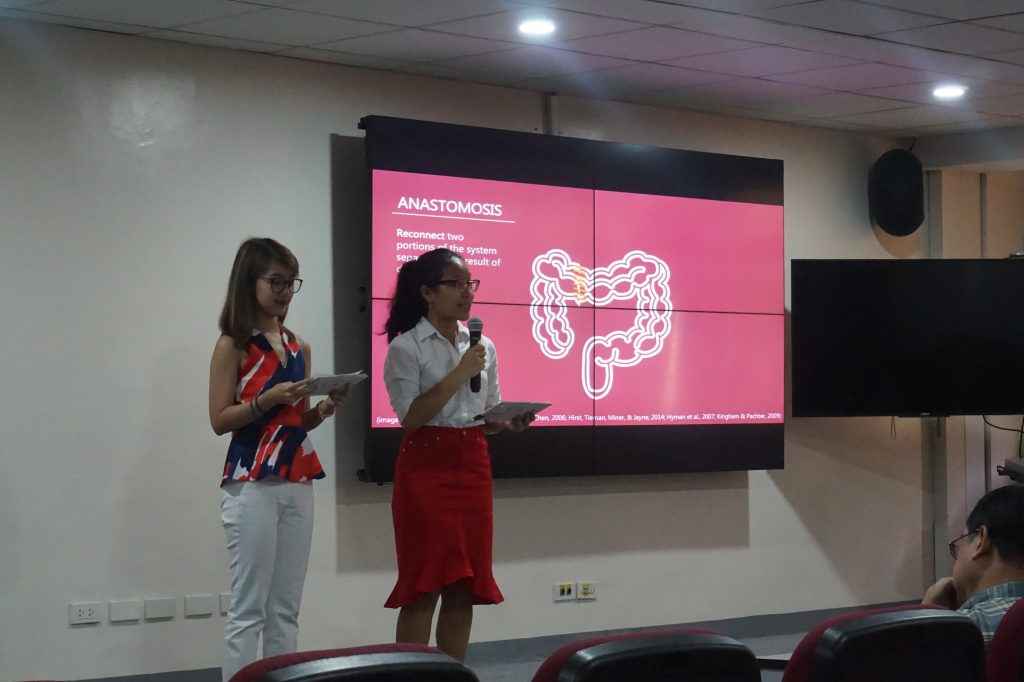 Left: Kenneth Manding (DMMME) explains their research on "Photovoltaic and Photocatalytic Properties of Bismusth Oxyiodide-Graphene Nanocomposite"
Right: Camille Dizon and Montse Ticzon present their winning 2018 UPC entry "TAPE-SCAR Bioadhesive as a Potential Reinforcement to Conventional Anastomosis Techniques"
Chemical Engineering teams nabbed both Top Design and Top Research Awards during the annual Undergraduate Project Competition (UPC) of the UP College of Engineering. The five finalists for the Design Category and five finalists of the Research Category were evaluated from over 80 projects from the various Institutes and Departments. The final judging was held on June 1, 2018.
Cash prizes were provided by the UP Engineering Research and Development Foundation, Inc. and handed out during the UP College of Engineering recognition Rites on June 25, 2018.
Gregory Eleazar Angeles, Dane Carlo Dimarucut, and Ana Teresa Ruiz of Department of Chemical Engineering (DChE) won 1st place in the Research Category with their project entitled "Silver Nanoparticles from Waste Radiographic Films using Starch-Gelatin as Polymeric Capping Agent". The 2nd and 3rd prizes in the Research Category were also bagged by DChE projects.
Meanwhile, BS ChE students Camille Kirsten Dizon, Jaclyn Aimee Chua Yap and Monserrat Blanca Ticzon's "TAPE-SCAR Bioadhesive as a Potential Reinforcement to Conventional Anastomosis Techniques" topped the Design Category. UPERDFI President Engr. Rosario Calderon commended the immense potential of commercializing the TAPE-SCAR project for its relevance in the medical field and advantage compared to available products in the market.
UPC is held annually to inspire UPCOE students to take their projects one step further by integrating societal needs and market potentials in their efforts. UPCOE and UPERDFI hope that with proper mentoring and sufficient funding, students can transform their laboratory projects into applicable technologies that will benefit society in the future.
The 2018 UPC Organizing Committee was composed of UPCOE Faculty, headed by Dr. Donna Belle Balela of the Dept. of Mining, Metallurgical and Materials Engineering (DMMME).
Here is the full list of winners and projects for the 2018 UPC:
Design Category:
Award
Project Title and Adviser
Authors
Dept./ Inst.
1st Place
PhP 30,000
TAPE-SCAR Bioadhesive as a Potential Reinforcement to Conventional Anastomosis Techniques
Adviser: Dr. Terence Tumolva
Dizon, Camille Kirsten D.
Chua Yap, Jaclyn Aimee T.
Ticzon, Montserrat Blanca N.
DChe
2nd place
PhP 20,000
Materials Selection and Design of Transtibial Prosthesis
Adviser: Prof. Eduardo Magdaluyo Jr.
Del Rosario, Hannah Angelica F.
DMMME
3rd place
PhP 10,000
Synthesis and Characterization of Ionically Crosslinked κ-Carrageenan/Sodium Alginate/Carboxymethyl Cellulose Hydrogel for Soil Water Retention and Fertilizer Release
Adviser: Dr. Terence Tumolva
De Guzman, Jessa V.
Dela Peña, Keesha S.
Ytac, Dorothy Joy Q.
DChE
Runner-up
PhP 3,000
A Total Systems Study on Oil Manufacturing Company XYZ
Adviser: Prof. Adeline Pacia
Concepcion, Ana Samantha
Sanchez, Paula Nadine L.
Santos, Louise Angela B.
Torres, Jose Emmanuel P.
ICE
Runner-up
PhP 3,000
StepGear: Development of a Gait Training Device Using Load Cells
Adviser: Dr. Luis Sison
Latina, Victoria Grace E.
Zabala, Charisma A.
EEEI
Research Category:
Award
Project Title and Adviser
Authors
Dept./ Inst.
1st Place
PhP 30,000
Silver Nanoparticles from Waste Radiographic Films using Starch-Gelatin as Polymeric Capping Agent
Adviser: Dr. Bryan Pajarito
Co-adviser: Dr. Mary Donnabelle Balela (DMMME)
Angeles, Gregory Eleazar D.
Dimarucut, Dane Carlo N.
Ruiz, Ana Teresa S
DChE
2nd Place
PhP 20,000
Graphene from waste chicken feather
Adviser: Dr. Bryan Pajarito
Belarmino, Amelia Jane B.
Calimbas, Rizza Mae R.
Gonzales, Jillian Rae B.
DChe
3rd Place
PhP 10,000
Chitosan-coated silica nanostructures from waste rice husk for carbon dioxide capture
Adviser: Dr. Bryan Pajarito
Bata, Patricia D.
Onglao, Peter Nicholas S.
Orejas, Genesis Lance U.
DChE
Runner-up
PhP 3,000
Analysis on the Free Swell Index of Plastic Soils in Metro Manila
Adviser: Dr. Mark Albert Zarco
Agustin, Aljohn T.
Sy, Denniel Steven T.
ICE
Runner-up
PhP 3,000
Electromechanical Properties of Flexible Piezoelectric Nanogenerator (PENG) Using Different Patterns of Vertically-aligned BaTiO3 Nanotubes
Adviser: Dr. Candy Mercado
Aleman, Camelle Kaye A.
Narvaez, James Albert B.
DMMME