Thank you for being a part of a fruitful 2018! Sharing with you the latest updates about UPERDFI.

UPERDFI Firms up Action Plan for 2019

Trustees and Advisers (seated from left) Pete Maniego, Comptroller Edith Atienza, Jun Berba, Chairman Lilit Tumbocon, President Chato Calderon, Sec. Boy de la Peña, Mar Casillan (standing from left) Vice President Rico Trinidad, Wash Roqueza, Roger Buendia, Executive Director Tito Aliga, Corporate Secretary Bing del Rosario, Treasurer Aura Matias, Dean Rizalinda de Leon, Ferdz de la Cruz, Ji Reyes and Lito Frondoso

UPERDFI held a Special Board of Trustees Meeting, where the Action Plan for 2019 has been laid out and set into motion. Aside from the regular committee activities of the Foundation, we are grounding our initiatives around five (5) key objectives, which are to:
1. Produce the Best Engineers
2. Increase Number of Graduates
3. Promote Technopreneurship
4. Develop and Optimize Laboratories
5. Strengthen UPERDFI Organization
We thank our Advisers, Trustees and active members for their staunch guidance and continuous support to UPERDFI.

Meralco Power Foundation Honors EEDP Speakers Through Thesis Support Grants

The Meralco Power Academy Engineering Executive Development Program (MPA-EEDP) speakers donated their honoraria as Thesis Support Grants to 25 UPCOE Seniors.
The six-month certificate program organized by MPA President Ramon B. Segismundo and Trustee Dr. Aura C. Matias, was designed to develop the leadership and management skills of engineers at a pivotal juncture in their careers through a series of weekly workshops led by industry leaders.
EEDP speakers included 17 UPERDFI members: Mag Albarracin, Dado Banatao, Jun Berba, Chato Calderon, Ramon Castillo, Edgar Chua, Sec. Boy de la Peña, Dean Babylin de Leon, Bing del Rosario, Levy Espiritu, Henry Lim Bong Liong, Aura Matias, Cesar Romero, Mon Segismundo, Babes Singson, Alex Sy and Jun Uriarte, together with UPAE and UPIEAA Director Elise del Rosario and DOST-ASTI Director Joel Marciano.

UPCOE and UPERDFI Host Dinner for Dr. Romel Gomez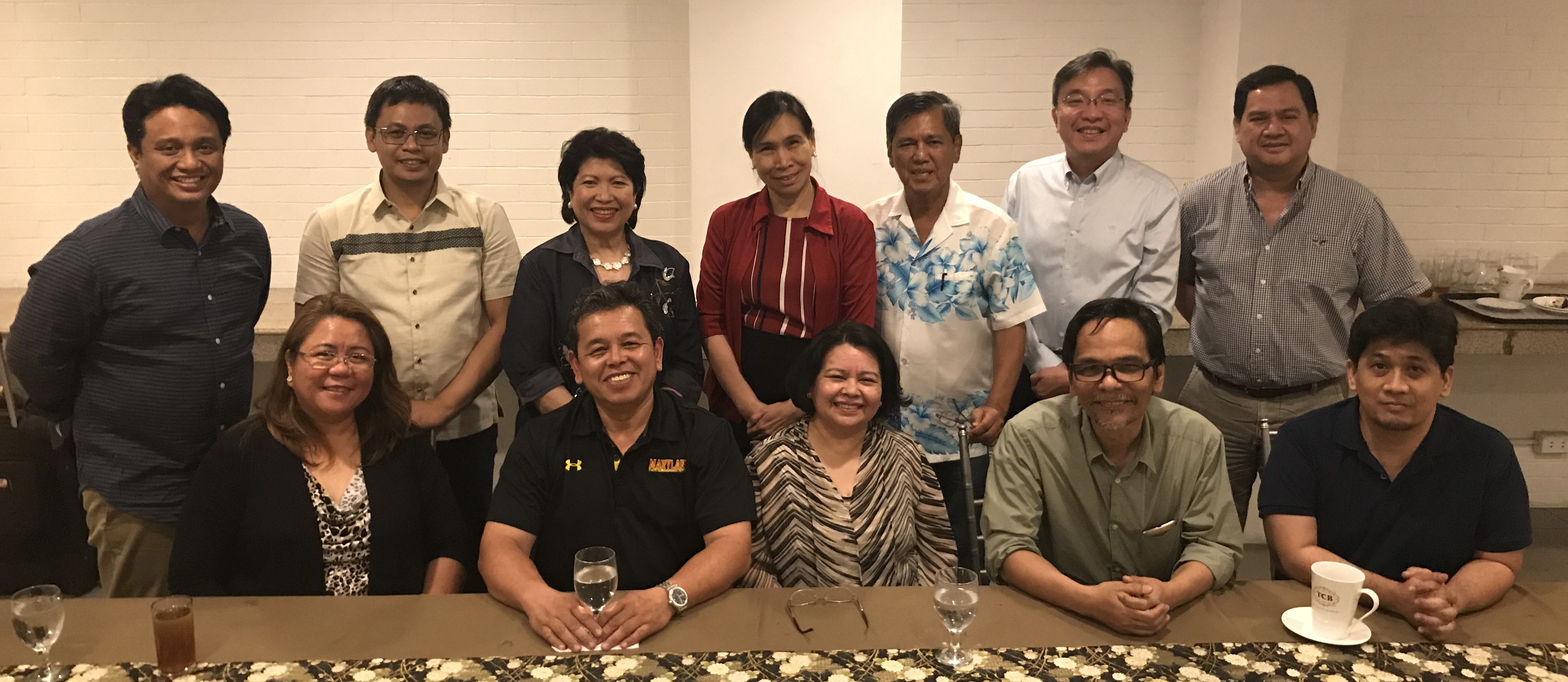 (seated from left) DOST Usec Dr. Rowena Guevara, Dr. Romel and Mrs. Gomez, Dean La Verne de la Peña (College of Music), Dr. Giovanni Tapang (College of Science); (standing from left) Dr. Richard Hizon (EEEI), Dr. Meynard Berana (AD for Research and Instruction), Pres. Chato Calderon, Dean Rizalinda de Leon, ED Tito Aliga, VP Rico Trinidad, Trustee Roger Buendia.

Dean Rizalinda de Leon and UPERDFI President Chato Calderon hosted a dinner in honor of Dr. Romel Gomez on January 11 at Cravings, Katipunan. Dr. Gomez came to UP at the invitation of Engineering Research and Development for Technology (ERDT) Program Director Dean de Leon. In his lecture, he suggested that the innovation from algorithm has a far reaching and easier implementation than innovation with manufacturing involved.
He also facilitated a workshop entitled "Connected People Using Connected Gadgets – The Internet of Things" at the Electrical and Electronics Engineering Institute Complex, organized by ERDT as a part of the Engineering Forum Series. Students from other ERDT participating universities all over the country attended the event, and many others watched through video conference. He discussed the elements of the Internet of Things (IoT) ecosystem from the device level to systems applications. He also shared IoT's huge potential applications to the Philippine context.

Thinking Machines Data Science, Inc. Reaches Out to Computer Science Students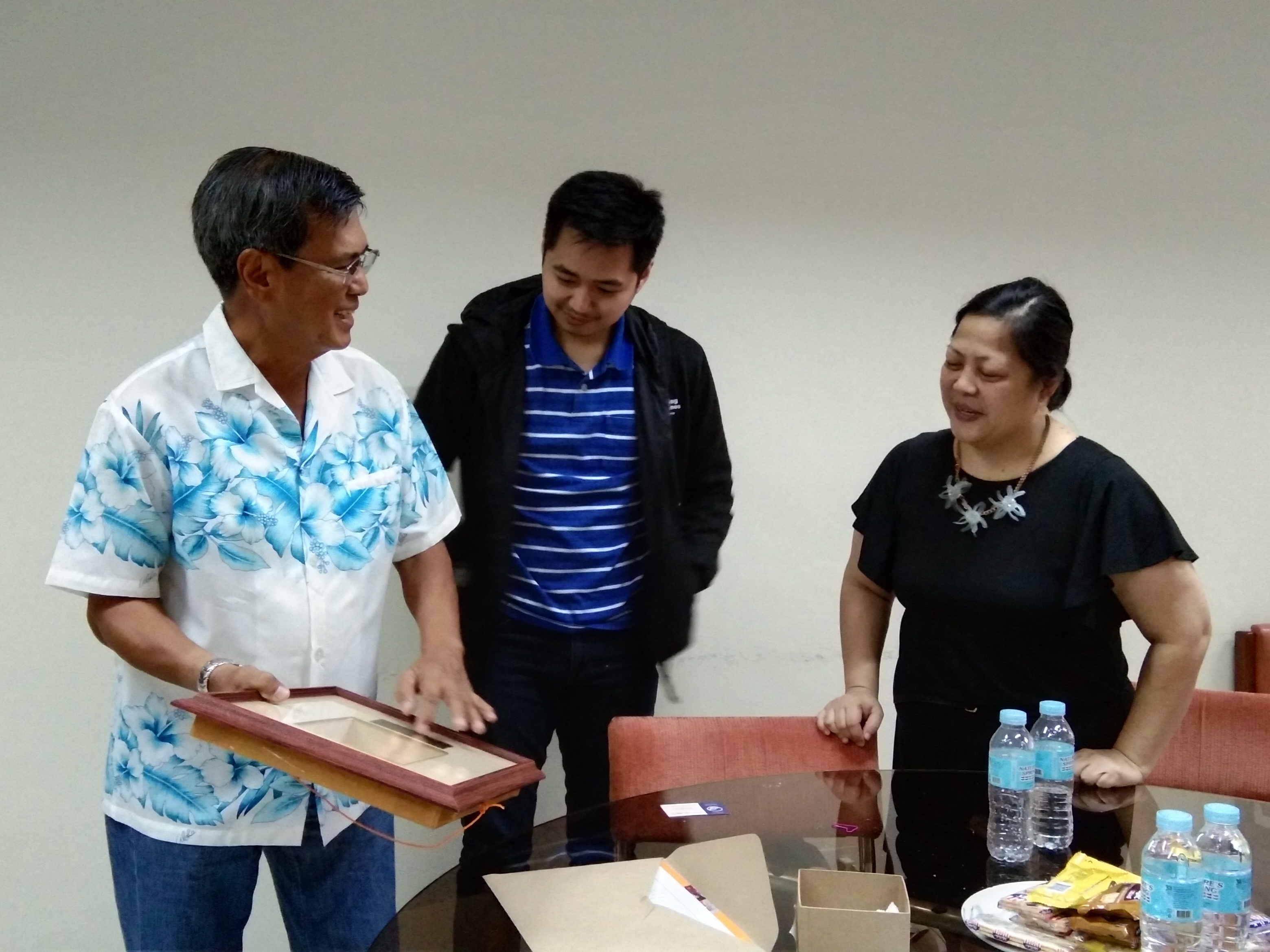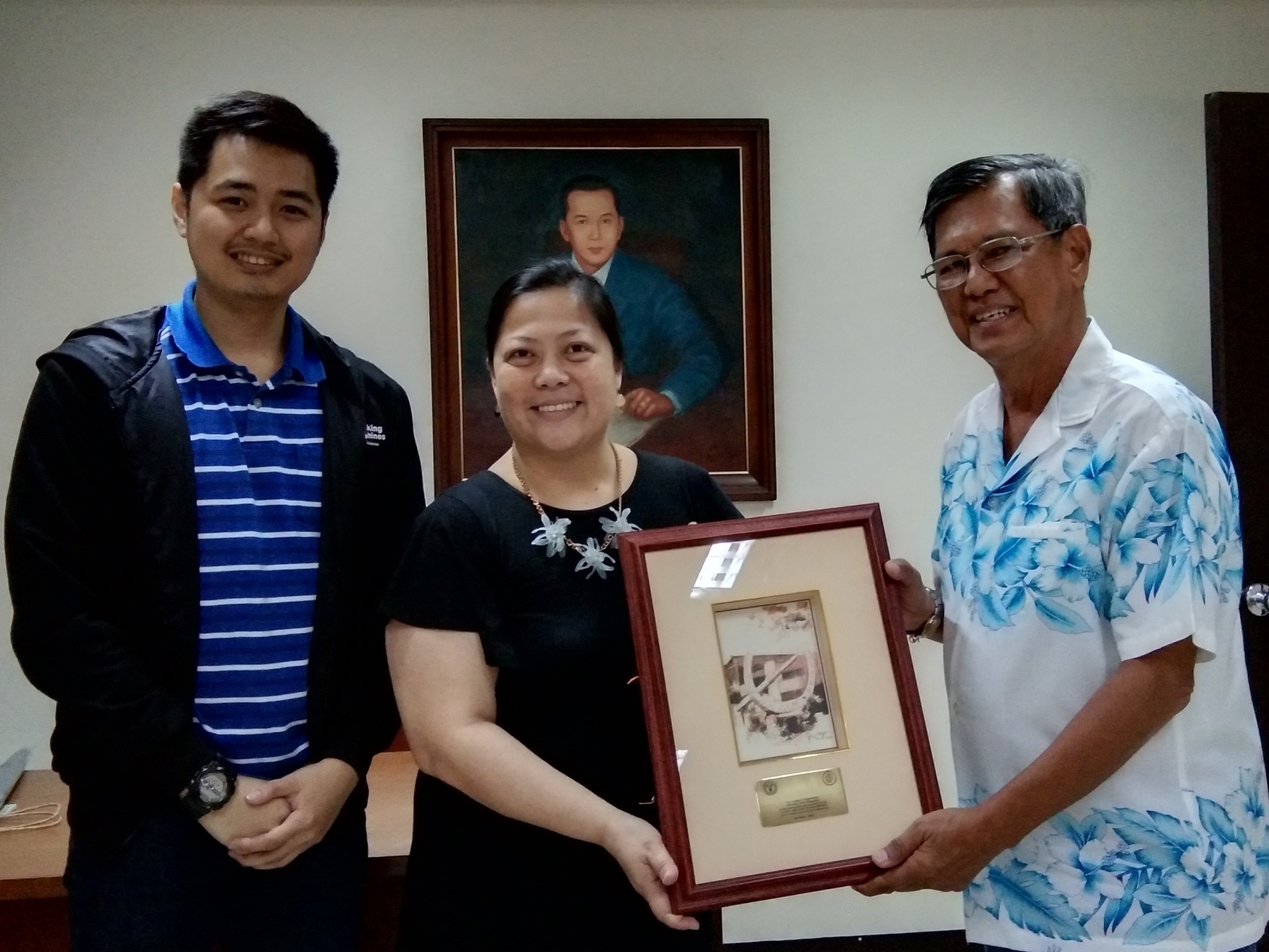 UPERDFI ED Tito Aliga hands over Sundial Plaque to TMDSI Director of Growth Chelle Gray and People Operations Lead Justin delos Reyes

Thinking Machines Data Science, Inc. (TMDSI), led by its Founder and CEO Stephanie Sy, sponsored a Study Grant and two Thesis Support Grants for Computer Science students, effective AY 2018-19. TMDSI People Operations Lead Justin delos Reyes and Director of Growth Chelle Gray visited the UPERDFI Office on January 11 to discuss further opportunities with Executive Director Tito Aliga on how to further collaborate in supporting the UP College of Engineering.

Longridge Construction, Inc. Sponsors UP ICE Delegates to ACI 2019

Longridge Construction, Inc. President Benedict Laogan readily answered to the call for support of Civil Engineering students by donating to the Student Competition Fund. They will compete in the upcoming American Concrete Institution (ACI) Convention 2019 on March 24-28 in Quebec, Canada.

FrontLearners, Inc. Backs Education Technology Research Projects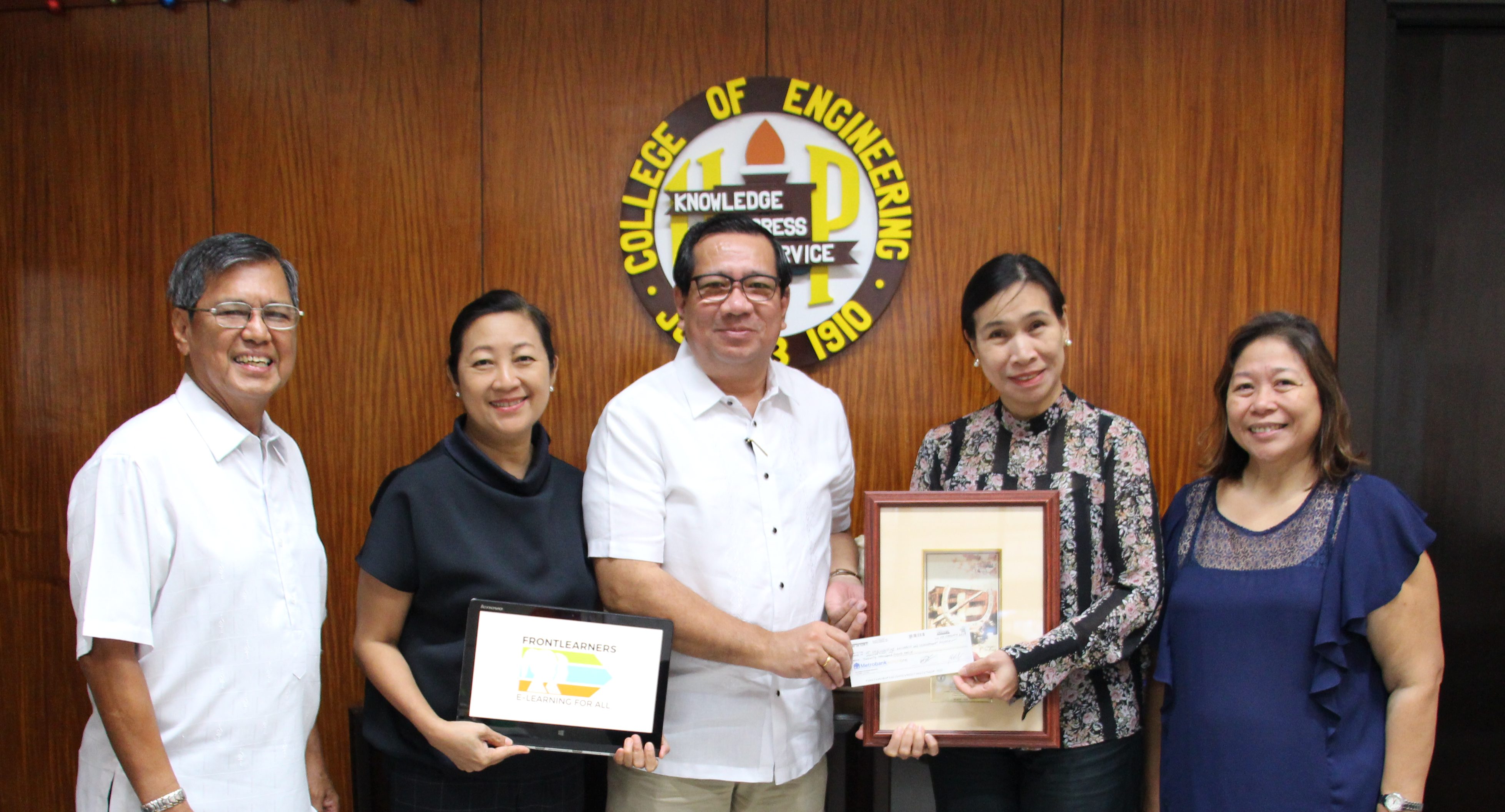 UPERDFI ED Tito Aliga, FrontLearners, Inc. Founders Elaine and Leo de Velez, UPCOE Dean Rizalinda L. de Leon, UPERDFI Trustee Aura Matias

FrontLearners, Inc. donated two Thesis Support Grants for research projects in education technology. UPCOE Dean Rizalinda de Leon awarded Founders Leo (ME '86) and Elaine de Velez with the commemorative sundial plaque, in appreciation of their contribution.


Engineering a Musical Evening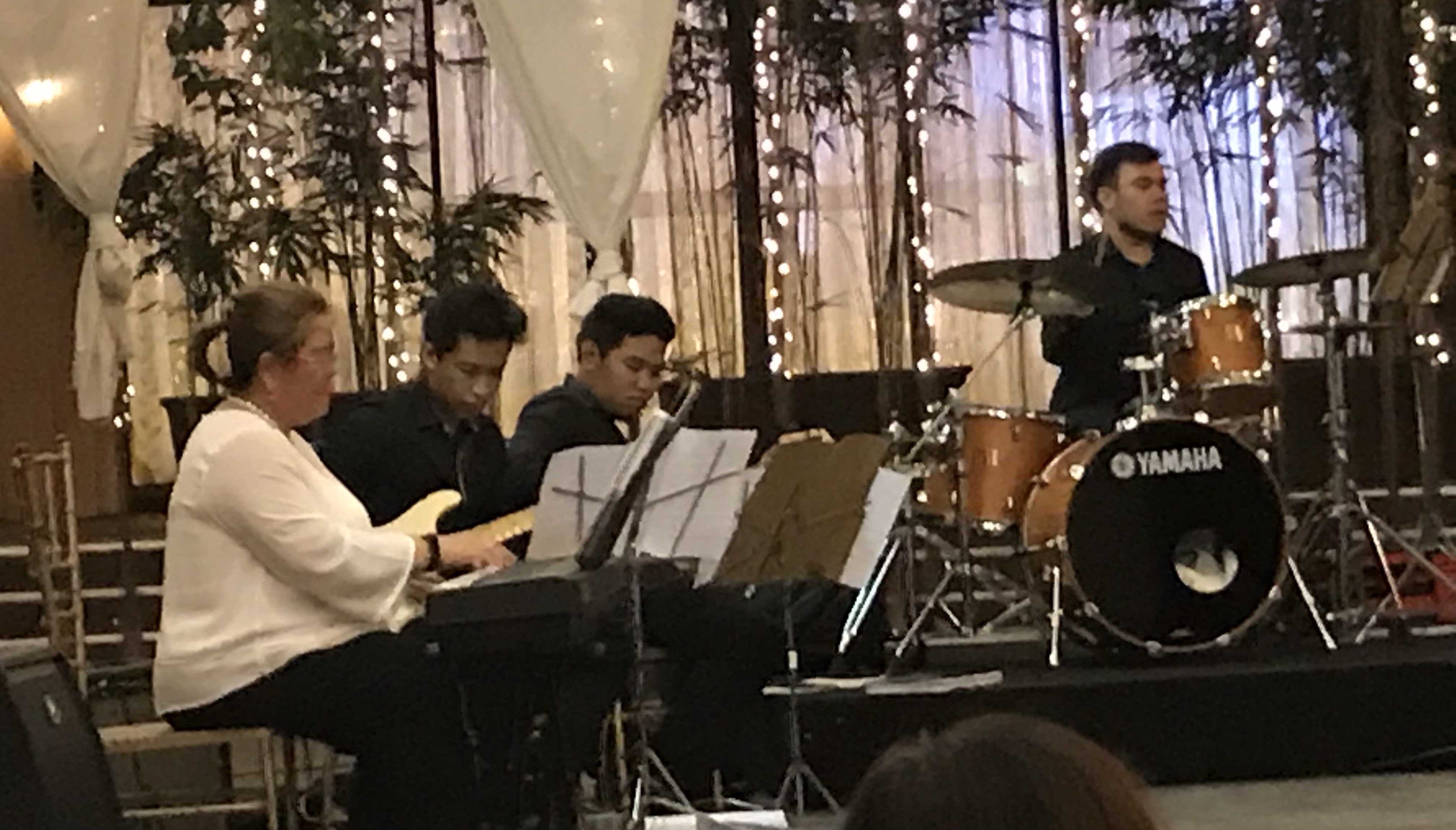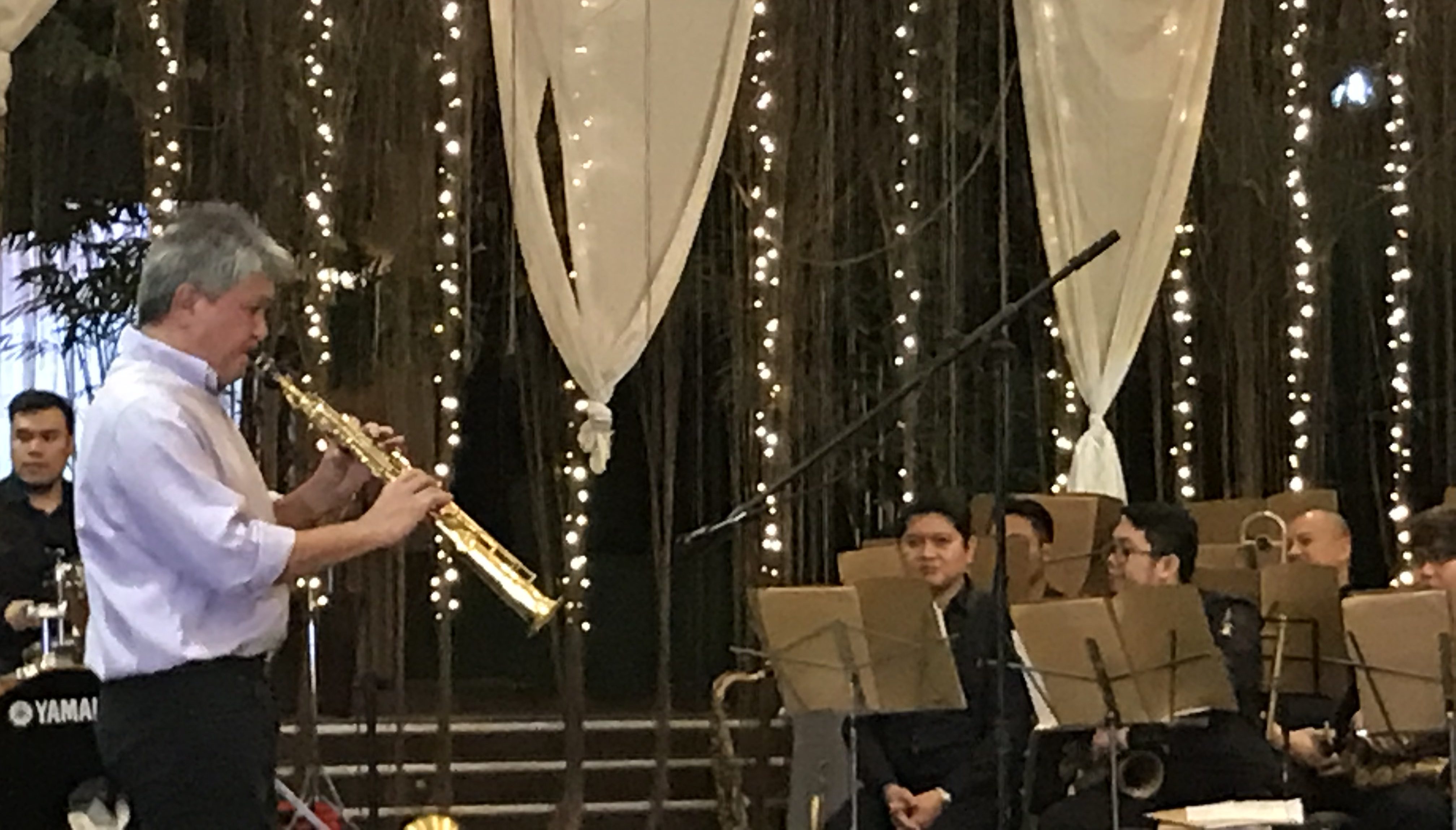 DOST Usec Gev Guevara and National Hydraulic Research Center (NHRC) Director Glen Tabios

UPERDFI President Chato Calderon gathered fellow music-loving UPCOE Faculty on January 8 to brainstorm an Engineering Music Night in late March. This is a fundraising concert for the Well-being Program for UPCOE students. The Task Force is inviting Faculty and Alumni with singing and musical instrument talents to make the event a fun and resounding success!
IE Alumni Donate to the UPIEAA Achievers Program

BS IE alumni Ramon Jocson, Kristen "Chicky" Quintos and Joaquin "Jajo" Quintos IV donated to the UP Industrial Engineering Alumni Association (UPIEAA) Achievers Program, which currently supports IE scholars.

Updates on the ES 101 Book Project

Led by Author Dr. Benny Pacheco and Co-author Dr. Augie Resurreccion, work started this January 2019, funded by Rene Bello (IE '75) and Carmen Seriña (widow of Andy Seriña, ME '71). UPERDFI Pres. Chato Calderon and Comptroller Edith Atienza joined the ES 101 Book Project Team to take charge of the Business and Marketing Plans. The team has also enlisted the support of ES Coordinator Harvey Peralta, Asst. Prof. Christian Orozco and other ES 101 teachers for the workbook development.
Rebranding UPERDFI: The McCann WorldGroup Philippines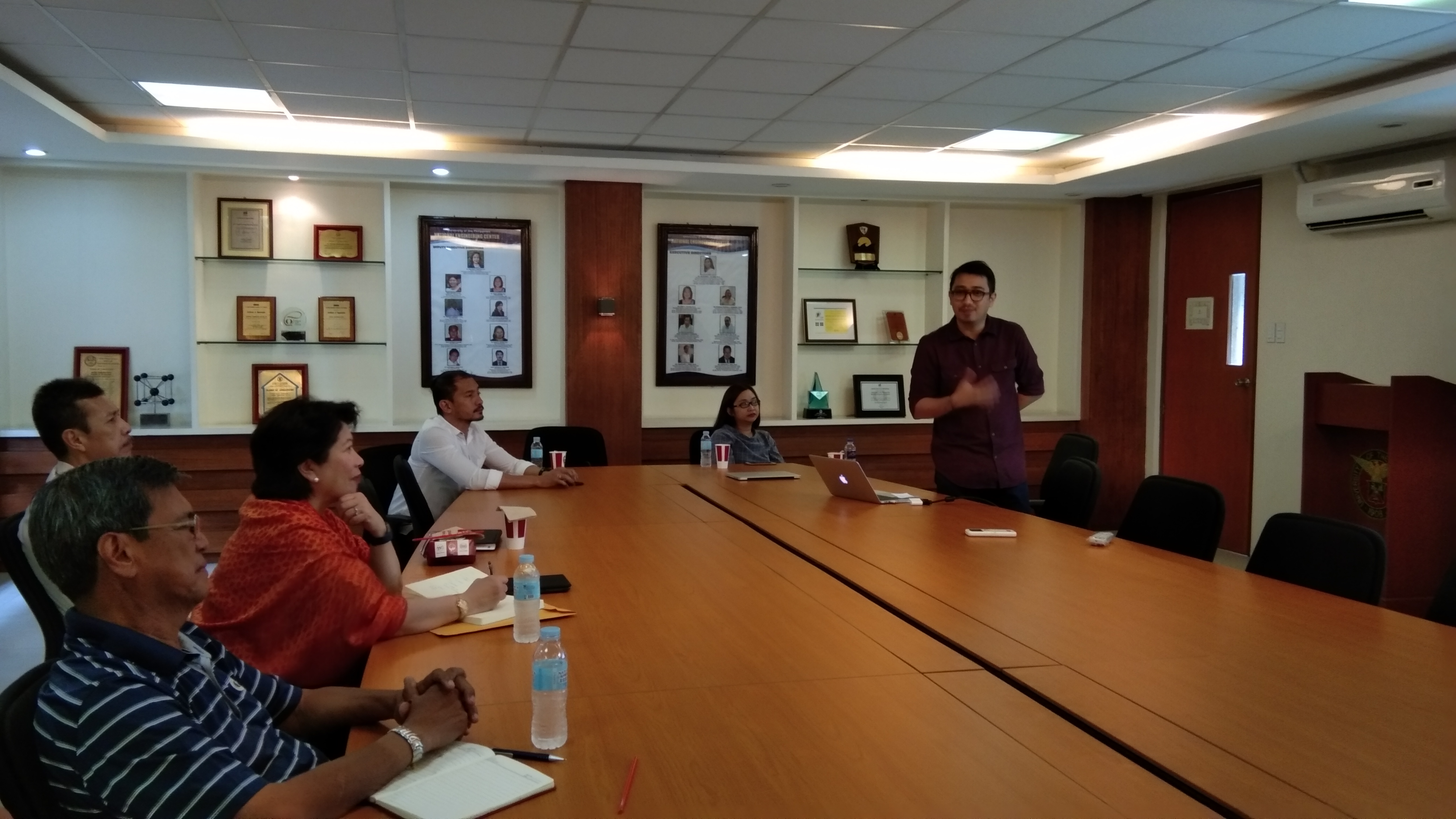 Executive Creative Director Sid Samodio presenting McCann's branding ideas to UPERDFI

UPERDFI adapted its initiatives to the shifting needs of the College of Engineering. To keep up with the Technopreneurship initiative, UPERDFI through Trustee Ferdz de la Cruz, enlisted the support of McCann WorldGroup Philippines CEO Raul Castro in transforming UPERDFI into a more exciting brand.
McCann's Adrian Quintana, Sid Samodio and Nix Morales presented the branding and messaging ideas for the UPERDFI to Pres. Chato Calderon, VP Rico Trinidad, Trustees Roger Buendia and Bing del Rosario, and ED Tito Aliga on January 8. UPERDFI lauded McCann for developing creative and forward-looking designs that are grounded in the legacy initiatives.
The Branding Designs will be presented during the 161st Board Meeting on February 20. Don't miss it!