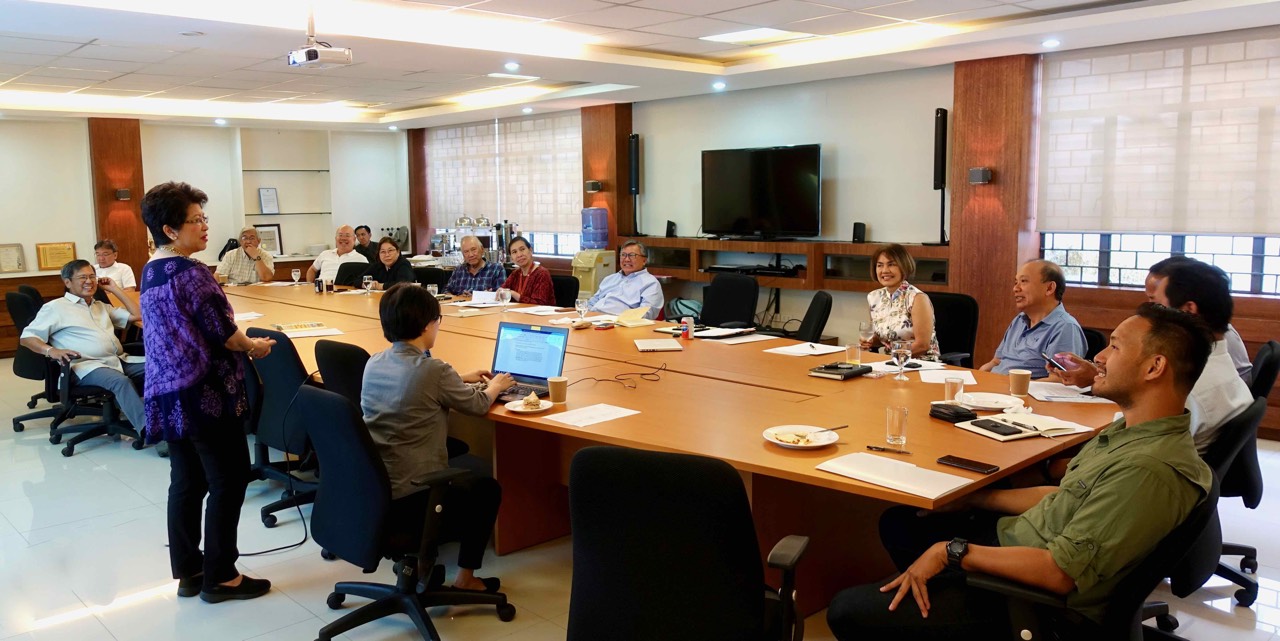 UPERDFI President Chato Calderon invites the Trustees and Members to Engg Musika!
The UPERDFI Board of Trustees, Council of Advisers and Members attended the Special Board Meeting held on March 12, Tuesday at the NEC Executive Board Room. The Board shared the status of the initiatives of UPERDFI: Special Projects on the ES 101 Textbook and Workbook, Engg Musika! Benefit Concert, 2018 Annual Report, Rebranding and Members Event are steadily-sailing. Being mounted are programs on Student Wellbeing, Lab Optimization, Graduation Rate Increase, Technopreneurship Promotion, Adjunct Professor Recruitment, Globalization and Master's Curriculum on Engineering Innovation.
We thank our Adviser Jun Berba, Members Val Reyes, Norman Juguilon, Patrick Ostrea, Elise del Rosario and Nicky Villaseñor for sharing their insights on the initiatives of UPERDFI. By email, Benny Pacheco, Ray Goco and Mag Albarracin chipped in their ideas as well.
The Board of Trustees also formally welcomed twelve new UPERDFI members who have all shared their precious time, talent, treasure and networks to UP COE, during the meeting:
1. Abelardo Basilio, CE '84; VP, Manila Water Co.
2. Dante Briones, IE '82; CEO, Sasonbi Solar Energy
3. Jerome H. Cainglet, ChE '89; VP, FirstGen Corporation
4. Joel F. Cruz, CE '84; President/CEO, SRDP Consulting
5. Elise A. del Rosario, IE '78; MD, One Small Step Forward Foundation
6. Leo de Velez, ME '86; President/CEO, FrontLearners, Inc.
7. Francis Felizardo, CE '86; President, Montepiedra Aggregates
8. Glenn C. Gratil, CS '96; MD, Accenture Philippines
9. Norman Juguilon, ChE '95; recently retired Regional Manufacturing Engineering executive of P&G
10. Benedict T. Laogan, CE '94; President/CEO, Longridge Construction
11. Patrick M. Ostrea, MBB '07; Owner/CEO, Eisenpatt Industrial Engineering Services
12. Nicanor S. Villaseñor III, IE '78; Managing Partner, Hybrid Renewable Energy Resources
All UPERDFI members are invited to the General Membership Meeting on May 15, Wednesday. Details to follow.