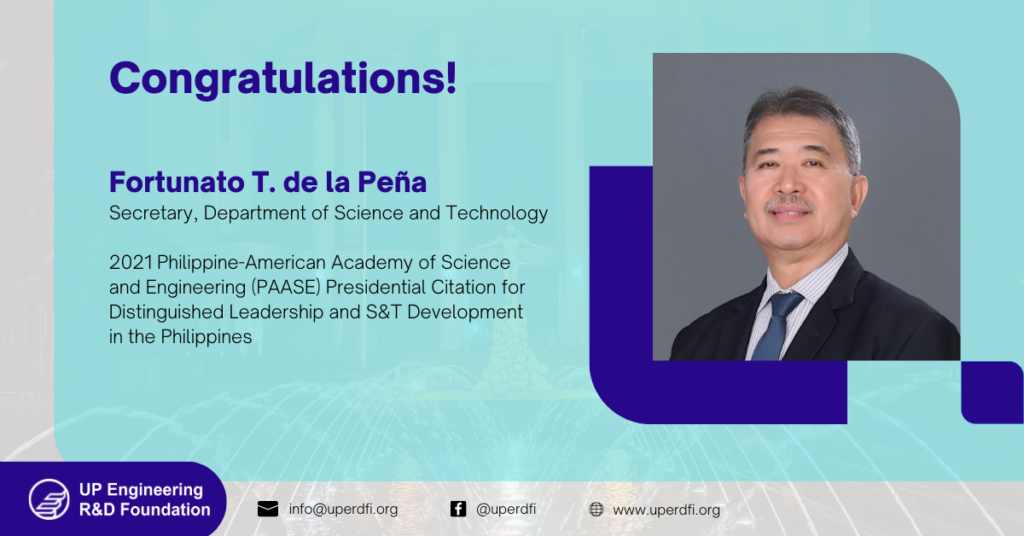 DOST Secretary and UPERDFI Adviser Fortunato de la Peña was conferred the PAASE Presidential Citation for Distinguished Leadership and S&T Development in the Philippines. The awarding was held during the 41st Annual PAASE Meeting and Symposium held on October 8-11 in Baltimore, Maryland, USA.
PAASE acknowledged Sec. de la Peña as a "model S&T Patriot – S&T Servant Leader who has dedicated his whole life to S&T in the DOST and the University of the Philippines". During the virtual programme, Sec. de la Peña shared a comprehensive summary of the DOST programs and USec. and UPERDFI Trustee Rowena Guevara talked about the Balik Scientist Program of DOST.
The Philippine-American Academy of Science and Engineering (PAASE) is a non-profit organization composed of scientists and engineers of Philippine descent who have distinguished themselves in scholarly and research related activities. This AY 2020-21, many of our members – Chicho Mantaring, Riza Mantaring, Ben Yao and Lisa Bersales – have been invited to share their experiences in the Fireside Chats and Webinars. We also support some of their initiatives where industry participation is needed.