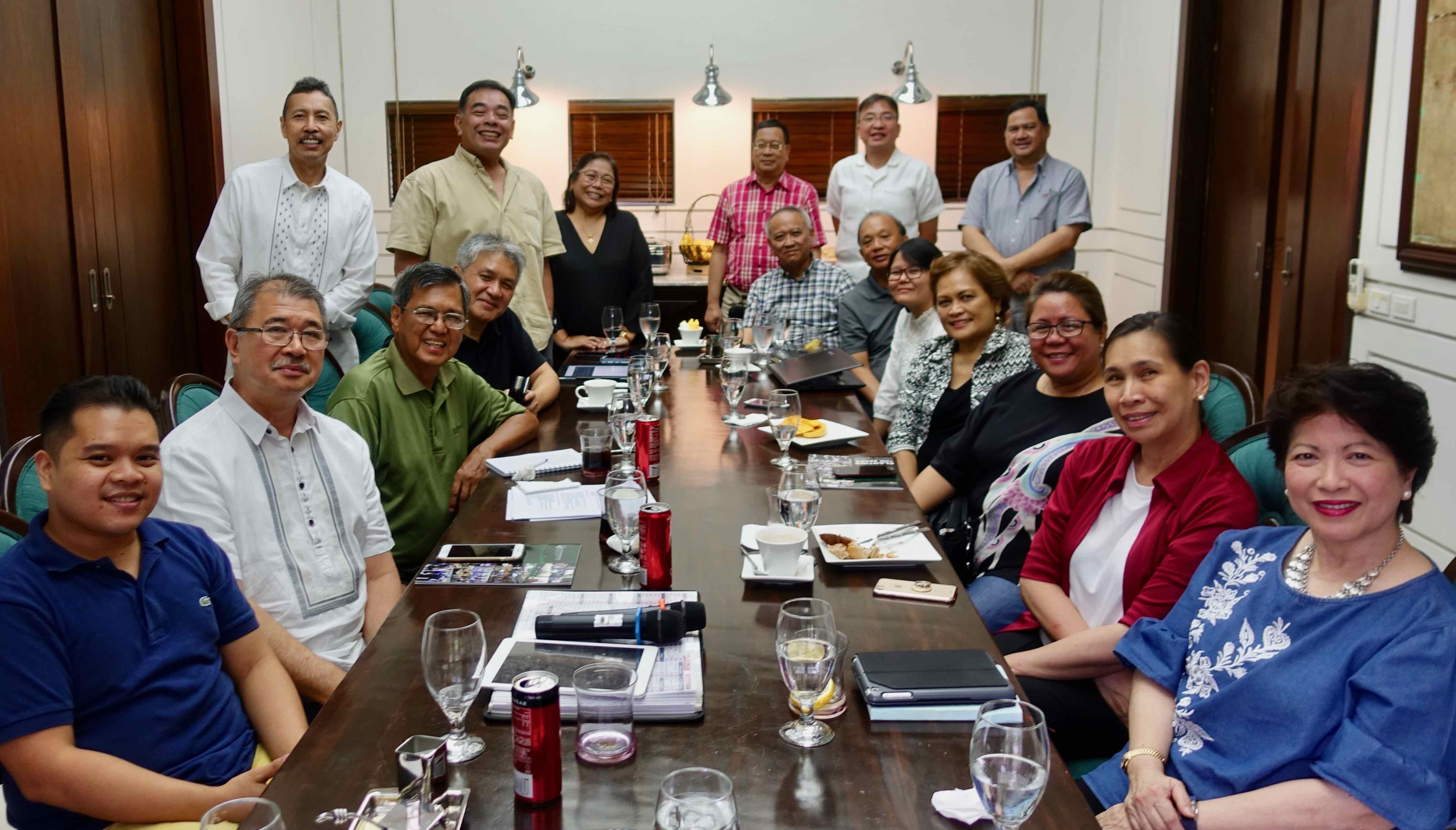 Back-to-Back Meetings at the Trinidad Residence with (seated, from left) Engg Musika Director Malvin Macasaet; Adviser Sec. Boy de la Peña; ED Tito Aliga; UP ICE Prof. Glen Tabios; Chairman Alex Sy; Secretary Ronnie Nolasco; EA Norika Ishikawa; UP DGE Prof. Rhod Gonzalez; Usec Gev Guevara; Dean Babylin de Leon; Adviser Chato Calderon. (standing, from left) VP Bing del Rosario; Ji Reyes; former Dean Aura Matias; Treasurer Ega Atanacio; President Rico Trinidad; and Roger Buendia.
UPERDFI President Rico Trinidad called for and graciously hosted the Special Board of Trustees Meeting held on June 5 at his residence in La Vista, Quezon City. Chairman Alex Sy presided over the transition meeting, which focused on the prioritization of UPERDFI Programs and Projects. The meeting was preceded by the EnggMusika Project Team led by Adviser and 2018-19 president Chato Calderon.
The Trustees have also reorganized into Committees and Task Forces to better implement current and new initiatives. Wash Roqueza and Roger Buendia retained their leadership of the Audit and Governance, and the Innovation Committees, respectively. Newly-elected Trustee and Treasurer Ega Atanacio will head the Investment and Finance Committee while Corporate Secretary Ronnie Nolasco will be in-charge of Membership matters. President, Rico Trinidad will lead the Resource Generation Committee for the mobilization of resources UPERDFI's network of stakeholders.
The Special Task Forces and lead persons are: SWELL and Learning Commons – Dean Rizalinda de Leon, Ji Reyes and Ega Atanacio; Engg Musika – Chato Calderon and Rhod Gonzalez; Integrated Maker Space – Gev Guevara, Bing del Rosario, Ronnie Nolasco and Alex Sy; Technology Entrepreneurship – Rico Trinidad, Aura Matias and Roger Buendia; and Energy System Planning Model Project – Pete Maniego and Roger Buendia.
The Board is excited to work with alumni, partners and other stakeholders to continue elevating UPERDFI's support to UPCOE.