I am stealing with pride the catch phrase of a boyhood ad about vegetables which stuck in my mind over the years –  GO, GROW AND GLOW. This basically captures our intentions for the year — move into action with measurable results in our key initiatives; boost our membership engagement and our funds; and through it all, excel in our project governance as well as showcase the capabilities of UPERDFI and the COE.
Our top (3) 'GO' focus areas for the year ahead are as follows:
Resource generation and new sources of funds
Sustained support to COE faculty development, R&D and innovation
Effective governance of projects involving High Performance Computing, ERDFI Digitalization and the Energy Systems Modeling
Resource generation is one of the two 'GROW' initiatives this year, given the softening of interest rates and the overall slowdown in the economy resulting from the current pandemic. Our lofty aim is to double our current fund. Hand in hand with this is to tap into the biggest strengths of UPERDFI – the talents, skills, track record and network access of its members around the globe, whom we also aim to double. Without doubt, the success of our initiatives this year primarily hinge on our ability to enroll more UPERDFI members to get involved and share their time, talent, and resources.
Our efforts to 'GLOW' will be very deliberate and intentional by demonstrating excellence in key project execution, academics, R&D and innovation in partnership with the COE. We look forward to capping the term with a fitting celebration of the Golden Anniversary of UPERDFI next year. This early, the overall program chair has been identified in the person of former President Chato Calderon.
In behalf of our Chairman and the Board of Trustees, may I issue a clarion call for our 205 strong members to stand up and be counted. We will continuously communicate opportunities ahead to support the COE in raising its capability as a premier institution of learning, research and innovation as well as to help the UPERDFI live up to its role as an enabler of inclusive development in the country. We look forward to hearing from you!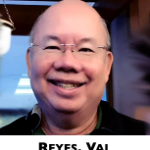 Val Reyes
UPERDFI President, 2021-22