The month-long search by the Innovation Committee headed by UPERDFI President Chicho Mantaring culminated on May 24, 2023 with the awarding and hand-over of grants to the student project leaders. The focus of the grant is to assist the prototyping of the R&D and capstone projects of students that have benefit to society.
Three projects have been selected from the applicants. These are: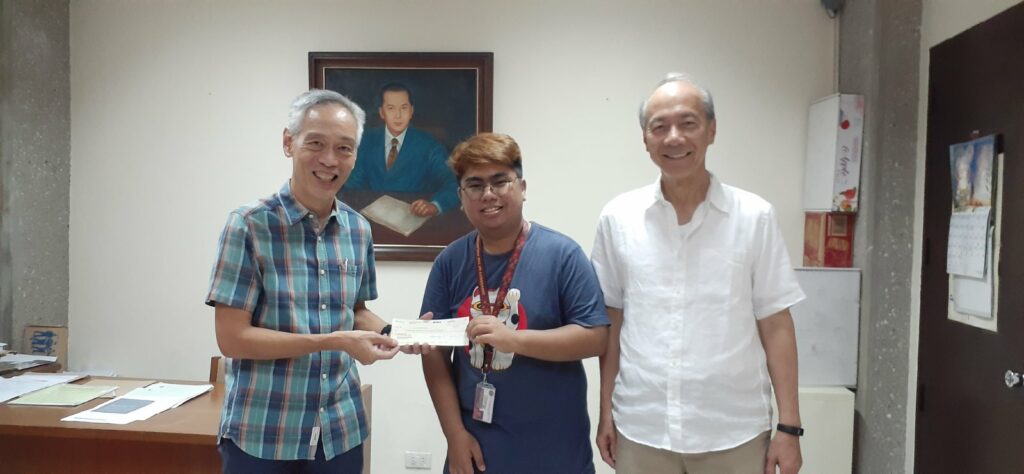 "Formulation of long-persistent and retroreflective luminescent pavement marking paint using Lanthanide-doped Strontium aluminate base and Glass Beads" by Allain Andrew Sapin, BS CE; Jam Ram Andro Federico, BS CE from the UP Institute of Civil Engineering
"Sign Language Detection and Captioning for Video Conferencing Using Machine Learning" by John Gabriel Porton, BS CoE; Angela Nicole Lacena, BS CoE from the UP Electrical and Electronics Engineering Institute
"FilAAC, A Tagalog-focused Augmentative and AlternativeCommunication (AAC) System" by Alfred Jason Abanto, BS CoE, in collaboration with Ellyn Cassey K. Chua, MSc, RSLP, Assistant Professor at the Department of Speech Pathology in UP Manila.
The fourth project – KoolGear, a prototype being developed by Ivan Brent F. Nara, is handled by UPSCALE Innovation Hub.Trustee Vic Villagracia and Deputy Executive Director Norika Ishikawa met with the grantees and joined the hand-over.
We look forward to the results of these student projects and excited for these to benefit society!
Those who are interested to support the Student Projects for Societal Impact are invited to join the Innovation Committee or donate to build up the fund!